If you rely on a Trial Balance report to summarize the debit and credit balances of each account on your Chart of Accounts each month, you'll be happy to learn that Transaction Pro Exporter for QuickBooks Online now offers this functionality.
Trial Balance reports are useful for ensuring the closing balances of the general ledger accounts match. If the balances don't match, it indicates that the ledger transactions are unbalanced. Trial Balance reports are typically run at the end of an accounting period to locate any data entry or mathematical errors entered into QuickBooks.
The Trial Balance report is also used to give you a financial snapshot of your business. Small businesses can create this data in CSV format to load into business intelligence tools, giving them a comparison of their business's financial state compared to others with the same Chart of Accounts, such as franchises.
Export Trial Balance Reports
QuickBooks Online offers the ability to export a standard Trial Balance report, but Transaction Pro Exporter takes it one step further, giving you added functionality.
To export your Trial Balance report, first login to Transaction Pro for QuickBooks Online and click on Transaction Pro Exporter. Once inside the Exporter tool, click on the Accounts dropdown and select Trial Balance: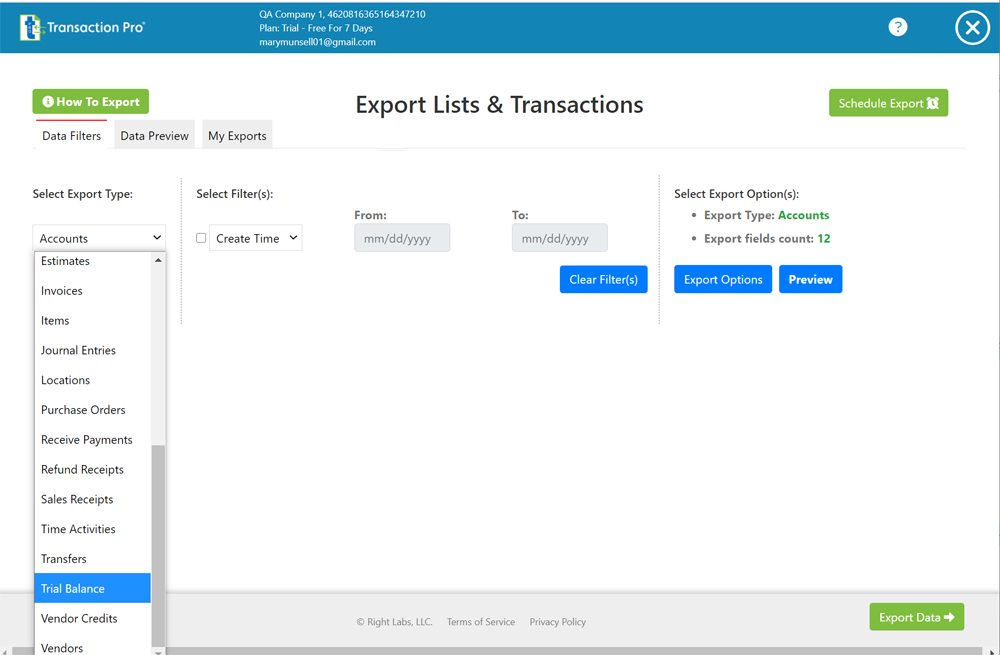 Select your filters and click on the blue Preview button to see your Trial Balance report: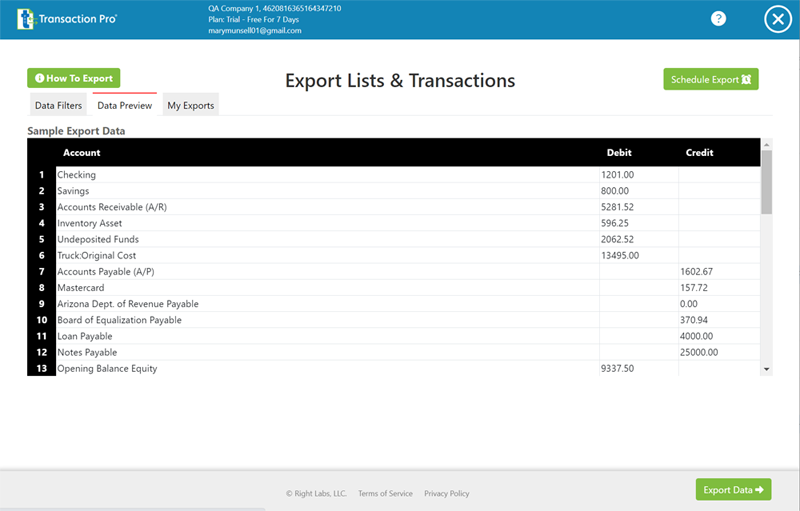 To export this report, click on the green Export Data button in the lower right corner. Then, click on the My Exports tab in the top left corner of the above screen to download your Trial Balance report. (Note: if the download link does not show immediately, check back in a few minutes. The reports are generated in the background and the link will show once the report is ready.)
Scheduling Your Trial Balance Reports
Transaction Pro Exporter gives you the ability to schedule your Trail Balance report exports. In the top right corner of Transaction Pro Exporter, you'll see a green Schedule Exports button: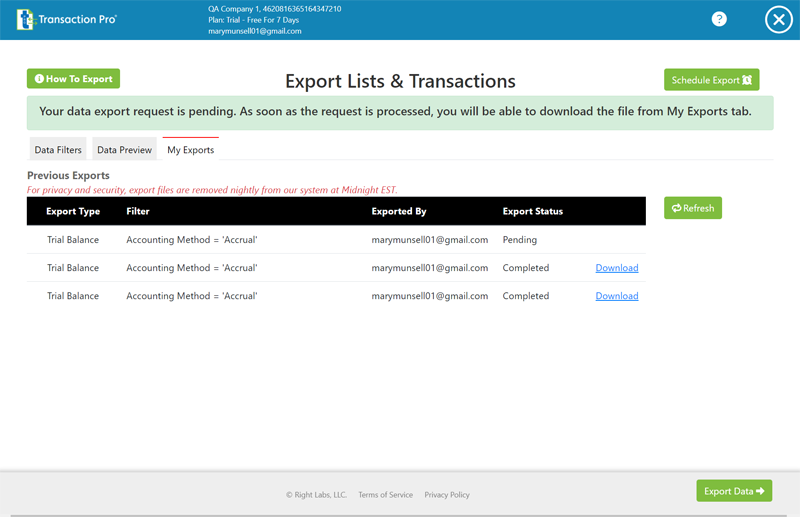 Once inside the Scheduler, click on the green Add New button and select Trial Balance under the Export Type dropdown menu. Enter a start date and select either one time, daily, weekly, or monthly report. Transaction Pro will email you once your Trial Balance report is ready for export. You can then export it by selecting the report and clicking the green Export Now button:


Need Help?
If you need assistance running your first Trial Balance report, please contact our Customer Success team at support@transactionpro.com.