Many businesses need to get multiple Credit Card transactions into QuickBooks Desktop, but often their credit card service provider does not offer an integration with QuickBooks. Transaction Pro Importer can import these transactions into QuickBooks each month, which can resolve an administrative nightmare and give your team the freedom from a full days' worth of data entry.
The benefits of using Transaction Pro Importer to import Credit Card transactions into QuickBooks Desktop are many, including:
Ability to get all transactions into QuickBooks at once
Generate and categorize expenses before they are entered into QuickBooks
List view of transactions.
The technology behind Transaction Pro Importer is so versatile that, with a few minor tweaks, the steps below can be used to import nearly any type of transaction into QuickBooks Desktop.
Step 1
Export the list of transactions from the software that houses the transaction information. (e.g. Expensify, credit card company, another QuickBooks company file, etc.) This export must be in a format accepted by Transaction Pro Importer.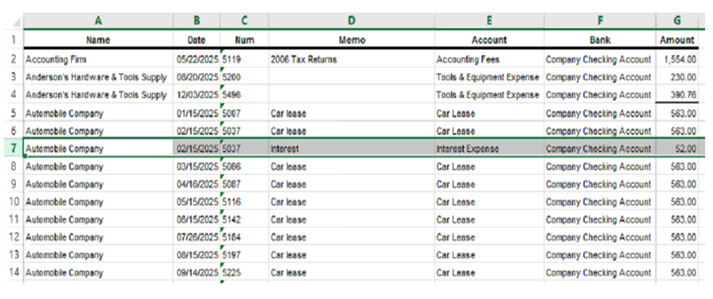 Step 2
Make any necessary changes to the exported file. Confirm the expense account is listed with the correct account information as your QuickBooks file that you are importing into. In the above example, in the "Account" column, it is listed with the account name in the QuickBooks company file that it is being imported into.
**Note if you have a split transaction (one transaction that will be recorded into multiple expense accounts), be sure to repeat the transaction number in the "Num" field and separate the amount for each line of the transaction. See lines 6 & 7 in the picture above.
Save the file once changes are completed.
Step 3
Using Transaction Pro's Import Wizard, browse to your file source and select the appropriate options for this import file. Select the correct sheet that will be used for the import from your file. Confirm the Import Type is selected for the correct transaction type that you wish to import in. Click Next.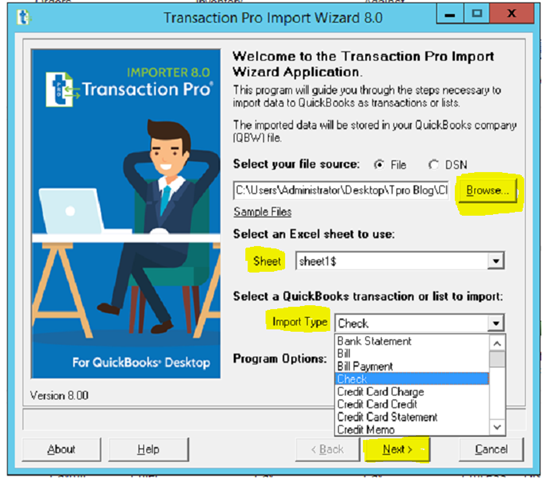 Step 4
Select Import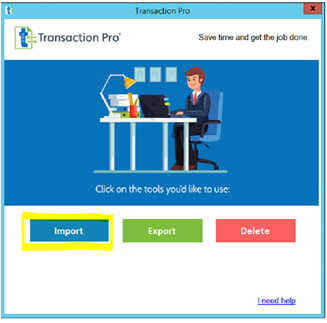 Step 5
Confirm Transaction Pro Importer is reading your data correctly and aligning to the correct columns. Click Next.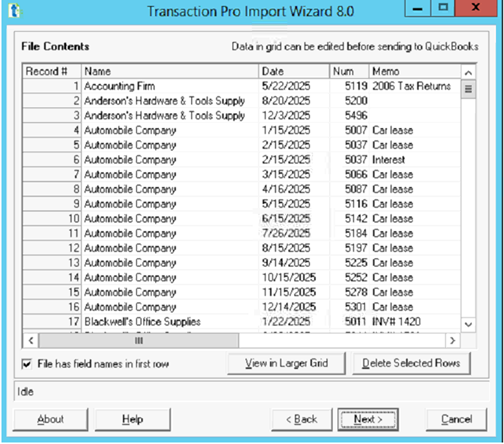 Step 6
Map the QuickBooks Fields listed in the first column to the correct columns of your Import File.
***Note any field listed in RED is a required field and it must be mapped to a column in your import file.

Step 7
Review the Data listed and again confirm that your data is mapped correctly. Click Next.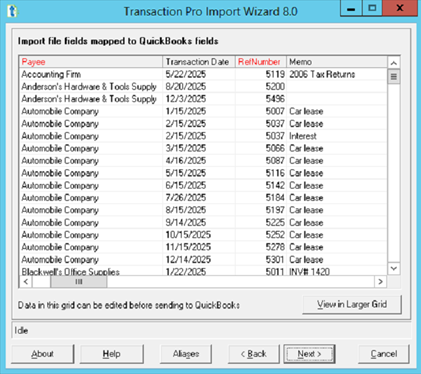 Step 8
If you need to setup a new item for this import, select the correct Item Type and Accounts and Transaction Pro Importer will create the item for you upon importing the file. Click Finish.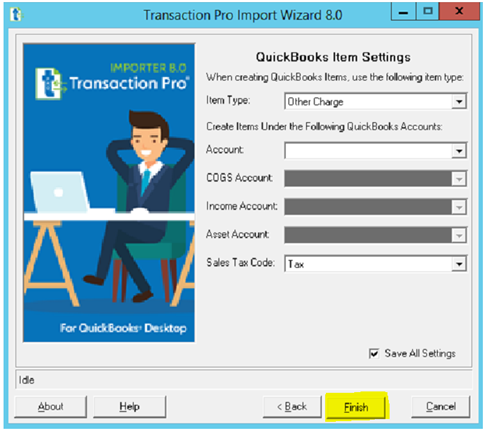 Step 9
Click OK and Transaction Pro Importer will do the rest!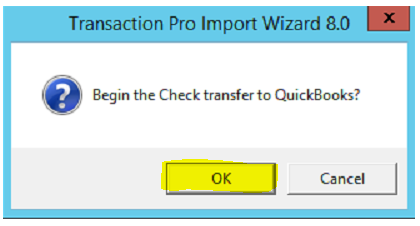 Step 10
Next, you'll see the results of the import. You can select to "Filter for records that did not import." If there are any records listed, you can either make corrections to those records and re-import ONLY THOSE RECORDS or you can manually enter the few that did not import.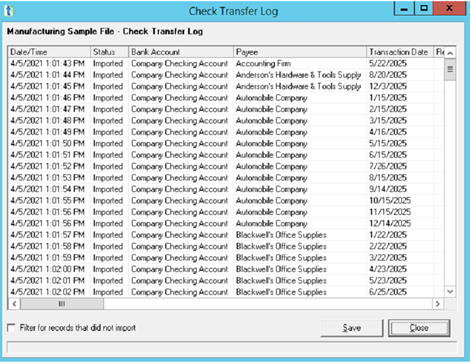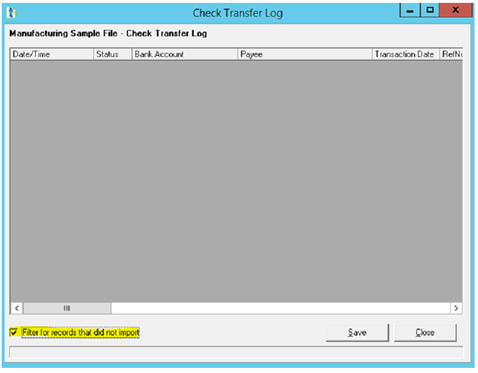 Your transactions are now in QuickBooks Desktop.
Need Help?
If you need assistance importing transactions into QuickBooks Desktop, please contact our Customer Success team at support@transactionpro.com.