Transaction Pro Importer maps are used to tell QuickBooks where the data in your spreadsheets belongs in QuickBooks. Mapping gives you greater flexibility to import data into QuickBooks the way you want it. Maps can be used to import a variety of transactions, including Invoices and Journal Entries, or lists such as Price Levels, Customers or Items.

To get started, download the following sample Excel file maps for each type of import (checks, bills, account list, etc.):
In the sample maps above, fields in red must be mapped. All other fields are optional. You do NOT have to map any other fields that you don't need to import into QuickBooks. For example, if the billing addresses are already in QuickBooks, there's no need to import them when adding invoices. Also, if you use the same headings in your spreadsheet, Transaction Pro will automatically map to those fields.
Once inside Transaction Pro Importer for QuickBooks Desktop, click on Field Match and it will map to those fields in your spreadsheet: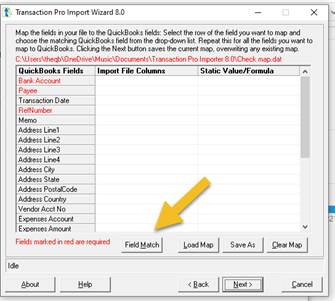 In Transaction Pro for QuickBooks Online, click on the Auto-Match button to match fields to your spreadsheet:

If you need to remove a field from Import File Columns, click on the down arrow to the right of the field, and scroll to the top of the list to find the blank entry: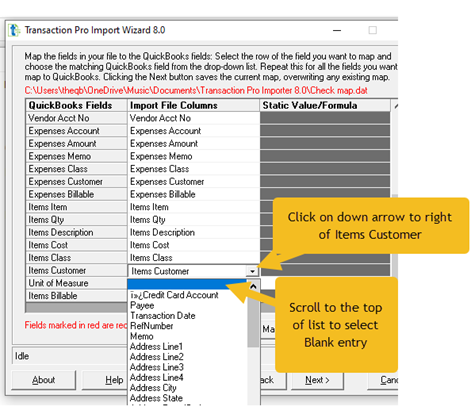 Use the Default Value column to apply the same value to every item you're importing (such as Date, Expense Account, etc.):

For additional help, read this Knowledge Base article if you're using Transaction Pro for QuickBooks Desktop: Create a Map for Transaction Pro Importer Desktop or watch this step-by-step video. If you still need help, contact the Customer Success Team at support@transactionpro.com.